WIPO handled slightly more UDRP cases compared to 2010.
Though the amount of UDRP cases is just slightly higher compared to 2010 the amount of domains involved was up by 9.4%. A smillar trend is noticed by ccTLD registries who use their own ADR procedure to resolve  domain name disputed.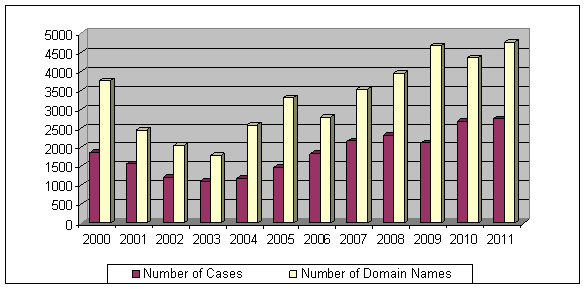 Since ICANN appointed WIPO as one of the parties to handle domain disputes back in 1999, WIPO handled more then 22.5000 UDRP cases and this number will only increase according to WIPO with the launch of the new gTLD's at the end of this year. How high this increase will be is unknown at the moment. First of all we don't known how many gTLD's will be released and it is unknown how effective the Trademark Clearinghouse will be when it is introduced by ICANN in October this year.
To read the entire report you can visit this link here.
The observant reader will notice that Denmark filed a massive amount of UDRD's last year compared to the rest of the world (204). This is due to the LEGO company who filed alone 161 complaints, and is fiercely defending it's trademarks.
Related articles